"Art does not reproduce what we see; rather, it makes us see."
Paul Klee


Latest Exhibition News:

The Clackamas County Arts Alliance Artist Exhibit Program has accepted my application for a 3-month public showing of my artworks in 2023. Yay and congratulations to all who were chosen! Visit their web site for all details: https://clackamasartsalliance.org/programs/artistexhibitprogram/

Stay tuned for when and where and thank you for your interest.
Welcoming the New Year --Mickey

Leaders in Contemporary Art Volume III

Rebecca George selected 15 artists from around the world to represent the online exhibition of Leaders In Contemporary Art for 2022, Volume III, It was the special feature for the month of December. See https://thearthouse.us/exhibitions.
But it's not too late to see it all!
Visit The Art House Archives for a look at all exhibitions. Astute viewers can also find my work included in Volume I and in WAR. https://thearthouse.us/exhibitions/archive
Thank you.


Studio Practice: New Works
four drawings and three paintings
01/15/2023

Sources of Inspiration and Details on Artworks:

"The next decade cannot be a decade of confrontation and contention. It cannot be East vs. West. It cannot be men vs. women. It cannot be Islam vs. Christianity. That is what the enemies of dialogue want." – Benazir Bhutto, former Prime Minister of Pakistan; born 1953-assassinated 2007. She served as Prime Minister from 1988-1990 and from 1993-1996.
My tribute to this thought from Bhutto is Dialogue Wanted. It's 10 x 8 inches on Arches hot press 140 lb. watercolor paper using pigment marker, gel and Micron pen.

Next we encounter three of the 2022 Death Series contributors:

French artist Pierre Soulages (1919-2022) devoted his life to investigating the color black, especially as a pigment. I can understand this devotion and remain impressed with his work. Soulages said, "Black is never the same because light changes it."
My first authentic encounter with black and its hues is when I started fabric dyeing and painting. Some blacks were greenish (!). My second encounter was when I was pursuing the idea of doing children's books. Marla Frazee was teaching a course and we got to talking about black and how difficult it was to get a true, clear black. She said she had resorted to using Xerox copy black for areas needing a smooth, even black finish.
The Soulages tribute is Honoring Blacks, an 11 x 14 inch painting on canvas using assorted acrylic blacks: ivory black as is, ivory black with pearlescent medium; mars black as is; ink black/pearlescent; and Micron black. I used 4 different brush types, all emphasizing Soulages point about light reflection.

Swedish-born American sculptor Claes Oldenburg (1929-2022) is celebrated for his rather whimsical yet majestic sculptures of everyday objects: a hamburger on a bun complete with pickles, a badminton birdie, a cherry sitting on a spoon. It is labeled Pop Art. Oldenburg's work can be found worldwide.
Oldenburg said, "A life cycle can be imposed on an object. An object can be very energetic and active, and then it has a dying phase and a phase of decomposition." My abstract interpretation of this thought is expressed in the 16 x 20 inch Life Cycle on Arches hot press 140 lb. watercolor paper using acrylic paint, watercolor marker, and Micron pen.

British author Hilary Mantel (1952-2022) is particularly known for her historical "Wolf Hall Trilogy." It is a well-regarded, fictionalized biography of Thomas Cromwell and his rise to power during Henry VIII's realm. Mantel explained that the attempt in structuring the narrative was to "duplicate not the historian's chronology but the way memory works: in leaps, loops, flashes."
And so we have Memory Works, a 10 x 8 drawing on Arches hot press 140 lb. watercolor paper. I took a whimsical approach in depicting different areas of the brain that might come into use in retrieving memories.

When I walked by our TV recently, a film character was saying, "Every once in a while I might grow tender, walking alone in the blue of evening." This brought a vague, but pleasant memory. The TV was showing the 1951 black/white film version of "Cyrano de Bergerac."
Cyrano, the character, was first fictionalized in a play by Edmond Rostand in 1897 and continues to be interpreted for new audiences, most recently in the 2021 musical and romantic drama film "Cyrano."
My tender blue of evening is Growing Tender on 11 x 14 inch Arches 140 lb. hot press watercolor paper using watercolor and Micron pen.

"What is art but a way of seeing?" So asks Canadian-American writer, winner of the Pulitzer, Nobel, and National Medal of Arts Saul Bellow (1915-2005). So was born Saul See expressed on a 16 x 20 inch canvas using only acrylic ink.

Finally there is a 20 x 30 inch canvas using acrylic paint. Its title, Intuit, One describes it. I didn't aim to make a statement about anything. The utter freedom of expression (limited and expanded primarily by simple yet demanding physical properties) in this approach is worth further and particular investigation.

Hover over image for title and size; click on image to see the complete artwork; and give extreme thanks to Mr. Mickey for all photo images and tech assistance on this website.


Studio Practice: New Works
four drawings and two paintings
12/15/2022

Sources of Inspiration and Details on Artworks:


Irish playwright George Bernard Shaw (1856-1950) said, "Without art, the crudeness of reality would make the world unbearable." Since he lived almost a whole century, I'm optimistically supposing he found enough art to make life bearable. I also am guessing he included all of the cultural arts in this statement.
My tribute is Without Art: Crude Reality on an 11 x 14 inch Arches hot press watercolor 140 lb. paper using watercolor marker, gel and Micron pen, and graphite.

Consciousness is a focus in my latest blog, "Bingo's Unified Self," and also here in Vibrations of Consciousness spurred by teacher Eckhart Tolle's thought: "Acceptance looks like a passive state, but in reality it brings something entirely new into this world. That peace, subtle energy vibration is consciousness." I've taken this thought onto an 18 x 24 inch piece of Blick's premier hot press 140 lb. watercolor block, using watercolor, acrylic ink, pigment marker and Micron pen.

A just for fun piece came with the idea that maybe raindrops are tired of falling straight down or simply getting blown by the wind. Clouds Support Raindrop Rebellion is expressed on a 16 x 12 inch black end paper from an Arches watercolor block, and done with a silver metallic gel pen.

Trauma Fractures Comprehension is a painting on 24 x 20 inch canvas using acrylic ink, paint and watercolor. It is inspired by an observation by sportswriter Jane Leavy (b. 1951) that "Trauma fractures comprehension as a pebble shatters a windshield. The wound at the site of impact spreads across the field of vision, obscuring reality and challenging belief."

Island Illusions rose from an observation by J. Donald Walters (1926-2013), aka Swami Kriyandanda: "In a sense, each of us is an island. In another sense, however, we are all one. For though islands appear separate, and may even be situated at great distances from one another, they are only extrusions of the same planet, Earth." My rendering is done on Arches 11 x 14 inch hot press 140 lb. watercolor paper using watercolor, Inktense, pigment marker and Micron pen.

"It may be hard for an egg to turn into a bird: it would be a jolly sight harder for it to learn to fly while remaining an egg. We are like eggs at present. And you cannot go on indefinitely being just an ordinary decent egg. We must be hatched or go bad." – British writer, professor and theologian C. S. Lewis (1898-1963).
My interpretation of this thought is Hatchlings, after C. S. Lewis. It's 11 x 14 inches on Arches hot press 140 lb. watercolor paper using watercolor marker and Micron pen.

Hover over image for title and size; click on image to see the complete artwork; and give extreme thanks to Mr. Mickey for all photo images and tech assistance on this website.


---
16 mm Film Work: Movies, Movies, Movies!

It's Here! The Mickey Moon Gallery

Photos of my early artworks are assembled and ready for viewing. Use GALLERIES above to go to The Moon Gallery.The images demonstrate early explorations into collage, relief (sand casting), sculpture, montage and figurative art. All artwork was done in the 1960s and early 70s.
A bit of Backstory: After high school graduation I spent the summer at the Ox-Bow School of Art in Saugatuck, Michigan. Ox-Bow is affiliated with the School of the Art Institute of Chicago and still offers amazing opportunities for study. I then did general studies, including art, at the community college and was inspired by a work/study opportunity in Europe. I worked in Switzerland and Belgium from February to October 1967. After receiving a full tuition scholarship from the Chicago Public School Art Society I graduated from the School of the Art Institute of Chicago in 1972.

---
About the Artist:

Micheline "Mickey" Stefanie Moon Ronningen was born in Compton, near Los Angeles, California. She spent much of her formative years being led around by three older sisters while escaping "Huge snapping turtles!" in Des Moines, Iowa, corn fields. Then the family moved to Chicago. Her flatlander status being well established, Mickey made the drastic move to the partially mountainous Pacific Northwest after graduating from the School of the Art Institute of Chicago.
Today Mickey's creative outlets are focused on fine art, writing, performance, and dealing blackjack for an event company. Creative pursuits began with using her own language until age five, drawing pictures at the age of four and writing fictional illustrated stories by age nine. Performance work developed at age sixty-five with recurring character work on IFC's "Portlandia." (Mickey plays Carrie Brownstein's mom in seasons 2, 3, and 5.) Several commercial shoots, one HBO pilot, and one gig as a Featured Extra for the ABC series "Stumptown," have followed.
Pursuing fine arts was formally established in Mickey's teen years with a photography course at the School of the Art Institute of Chicago and a summer spent at the Ox-Bow School of Art, Saugatuck, Michigan. Following study at a Chicago community college and a year working in Europe, Mickey returned to Chicago to win a full-tuition scholarship and earn a Bachelor of Fine Arts degree at SAIC. Advanced studies focused on filmmaking and environmental design.
Mickey's primary focus is to continue developing her artistic vision in the studio and establish contact with its special audience. Work on the business of marketing, promotion and sales is not optional and she says she is still learning. Mickey has expressed the intention to "maybe blog more often."


---
Artist Statement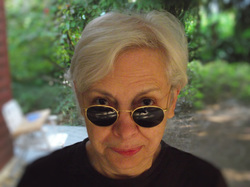 I investigate abstract experience. It is the wellspring of feeling and thought and establishes all one's memories. It's our experience of life and how we interact.

Visually my intention is to disrupt staid expectations and expand visual communication--its language. First viewing doesn't need to be pleasant or comprehensible yet aims to engage. I believe such engagement--even when silent and non-verbal--leads to greater interior and exterior understanding. This is, I believe, what art can generate.

I enjoy the challenge of giving concrete form to things and ideas, translating such essentials into a visual statement using only color, shape, texture, and composition. Honoring those aspects directing one's humanity and life course include a respect for humor and the restorative power of the meditative state.
Currently the materials I use to make such statements include archival paper, canvas, wood, pens, ink, colored pencil, watercolor pencil, pigment markers, acrylic paint and graphite. Pens offer a fine line element; markers are typically somewhat bolder and obstinate. Colored pencil and watercolor pencil offer specific textural differences, especially in how they interact with a paper surface. Ink may allow a wondrous drip or not. Paint provides solidity and the ability to change direction.
While composition establishes the relative dynamic, color establishes the energizing force. Form emerges by differentiation from background. Texture is presented primarily through choice of materials, then through repetitive marks or patterning.
I often begin an artwork with a question or inspiring phrase and answer or respond in visual terms. What expresses the joy in a Home Depot experience or the strength in diversity? What is the attraction to danger or dots and dashes? When disorder is the universe's rule, how do clarity and order relate? Or do they? Why is it difficult to understand and accept we are each unique? And that fact establishes our connection.
My ideal viewer and collector responds by investigating the conversation presented by the art. The activity becomes a mutual effort and exchange. My art is not meant to offer a beauteous grope. An appreciation of color, a sense of play, a sense of self, adventure, and acceptance enables a rich exchange. I encourage viewers to wander and safely embrace the language of my art. Welcome fellow travelers….


---