Artist's Bio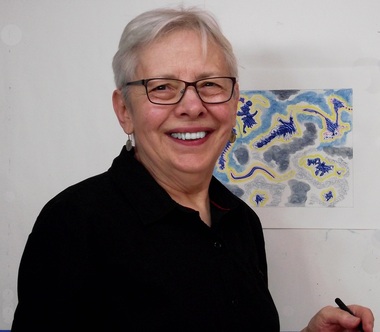 As a fine artist, writer and performer, Micheline "Mickey" Ronningen admits that her passion for verbal expression had dubious origins. She didn't talk until age five, remaining stubbornly attached to her own made-up language. Yet by high school SATs she ranked in the upper two percent nationwide for linguistics.
Having several creative outlets creates its own diversity and consistencies: art, always; writing, pretty much always; performance, a new thing. Meanwhile salaried work includes grocery cashiering, data analysis at Nielsen's rating, decorating commercial Christmas trees, work at the Museum of Contemporary Art (Chicago), Swiss farm mother's helper, minion to a French countess, criminal justice research, environmental impact study secretary/videographer/photographer, graphic design, landscape design, editor, indexer, temp work and other.
Visual accomplishments includes film, both still and action, with her movie "Popcorn" debuting at the Chicago International Film Festival. Numerous still works have appeared in publishing venues, including her own gardening book ("The Pacific Northwest Guide to Home Gardening") and online. She has also painted and dyed cloth, made dolls using pipe cleaners, foam and cloth; used embroidery threads for two large works based on photos and is experienced with traditional printmaking with stones, photo silkscreen and painting using acrylic, latex, and oils. She now enjoys experimentation with markers, colored pencil, ink and pens.
Written works include a book on gardening published by Timber Press (1979); over twenty years' experience editing and indexing nonfiction manuscripts; dedicated attempts at children's picture books; a nonfiction piece about muskoxen promoted by the Washington State Historical Society; three years as an online columnist writing about longevity; and a companion piece to an artwork focused on the local Blue Heron Mill site development and art jam.
Performance work, typically comedic, began with auditioning and being hired to play Carrie Brownstein's mom on "Portlandia." So far Carrie's mom is one of two recurring non-star characters on this Emmy award-winning show. Mickey appears as Carrie's mom in season two's "Wanna Come to My DJ Night?" Season three has Carrie's mom selling Carrie in "Art Project." Mickey's longtime friend Scott commented on her season five performance being "a masterful use of eyebrows" as seen in "Carrie's A Cool Dresser." Much of "Portlandia" is available through Netflix, Amazon, IFC, or Hulu.
Mickey's also done commercials for a community bank and a FLIR-FX home security camera. The FLIR commercial, with almost three million hits as of this writing, might still be on YouTube:
https://www.youtube.com/watch?v=Hstb4_cmd2w
.
The blackjack dealing helps supplement her art habit, she says. Though professional, it's done for an event company using scrip not real money. This is the only way Mickey says she will deal.
The only other things Mickey feels worth mentioning here, to sort of round things out, are: nine months' solo work in Europe at age twenty; a passion for gardening; a 36-year marriage to the same man; three amazing grandsons and stepdaughter and son-in-law; a desire to do a lot more fly-fishing; a love of dancing, having taken ballroom for three years; a full appreciation for meditation and qigong practice; a love of cats and 30-year history with such felines that has led to allergies and asthma. However, she insists she has yet to meet an ugly cat. As the asthma condition now pairs with emphysema, Mickey also practices amor fati—Nietzche's call to honor and embrace "the love of your fate."
---