Artist Statement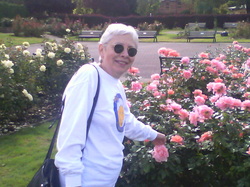 My artwork offers insight into things unseen yet experienced. I visualize the transformative impact of a knock-your-socks-off kiss, the passage of time or the stages of conscious or unconscious impulses precipitating action. Or maybe I'll want to describe the journey of a baseball traveling from home plate (perhaps on its way to a first home run) or how a chicken traveling in space might visualize infinity. I use abstraction because I find it lends clarity to those murky and otherwise undefinable transient states of being. Abstraction is basic to our thought processes. As an art form, it also can allow viewers freedom from potentially limiting and reality-based associations.

I am intrigued by the invisible and enjoy the challenge of giving form to things, translating experience into color, shape and composition. All the while I'm honoring those things which define one's humanity and life course. Additional elements in my work may suggest respect for a sense of humor and/or the restorative power of meditation.

Currently the materials I use to make such statements include archival paper, pens, ink, colored pencil, watercolor pencil, markers, paint and graphite. Pens offer a fine line element; markers are typically somewhat bolder. Colored and watercolor pencil offer specific textural differences. Ink may allow a wondrous drip. Paint provides solidity. I always begin a composition with graphite. The composition evolves as the statement evolves. Sometimes an artwork's origins demand discovery, sometimes I'm way ahead of the process.

My ideal viewer appreciates color, balance and imbalance, a sense of play, a sense of identity and a sense of mystery. Many of my compositions invite meditative thought. I enjoy encouraging viewers to wander and safely embrace the unknown. Welcome fellow travelers….


---